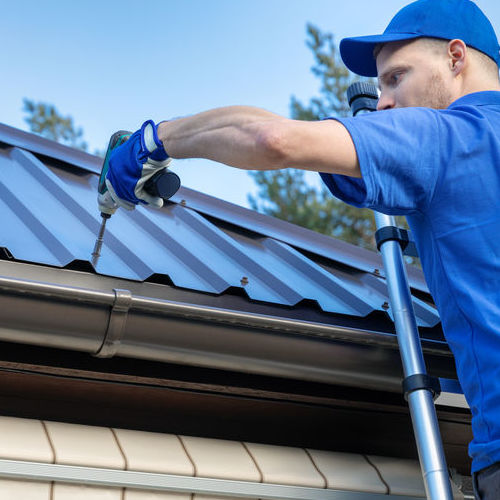 Experienced Metal Roofing Professionals
For homeowners who want an extremely durable roof that requires minimal maintenance and is still customizable, look no further than metal roofs! These are some of the longest-lasting roofs on the market today. Metal roofs can have a lifespan of decades with periodic maintenance! The reflective nature of these roofs makes them a fantastic investment for homeowners because they can save money on energy bills! Eclat Roofing is here to install, repair, and maintain metal roofs in Dallas, TX! Call our experts now at (214) 373-1500.

Installation
When it comes to metal roof installation, the choices are endless. Eclat Roofing can install aluminum, copper, zinc, steel, and titanium roofs, depending on your desires, needs, and budget. We can also make sure your roof gets the proper coating it needs to last a long time. Metal roofing is highly customizable. They don't just come in one sheet or in one color. They can imitate tiles (like clay and slate) as well as shingles. They can also come in a variety of different colors.
We can provide the best replacement and installation services for metal roofs in Dallas, TX with our professional roofing contractors. All these benefits only work if your roof is installed correctly, which is why it is extremely important to research roofing companies before letting them put a roof on your home. Eclat Roofingencourages our customers to get multiple bids before beginning their roofing installation or replacement.
Repairs and Maintenance
Metal roofing is a low-maintenance system and very rarely need repairs. When they do, however, it is important to take care of the repairs quickly so your roof does not deteriorate. A few of the issues roofs made of metal occasionally have are corrosion, rust, and leaks.
Eclat Roofing can repair these issues and even provide periodic maintenance. Compared to composition shingle roofs, metal roofs in Dallas, TX can last up to three times longer with proper maintenance! Maintenance is especially important after storms to keep your roof in good condition and promptly fix any problems.
Quality Roofing Services
Our professional roofers at Eclat Roofing are the top choice for metal roofs in Dallas, TX. We have an A+ rating from the Better Business Bureau and we encourage any potential customers to read our reviews. We are also happy to provide you with references before we begin your roofing project. Give us a call for maintenance, repairs or installations at (214) 373-1500.