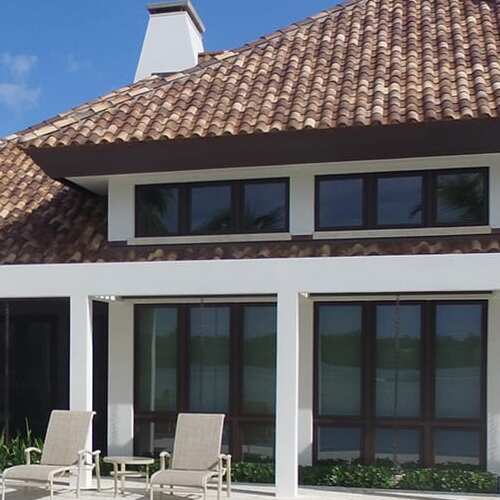 Premium Roofing Materials
When you choose Eclat Roofing as your roofing contractor in Dallas, TX, you can always count on us to use premium materials from leading manufacturers like Ludowici Tile.
These clay terra cotta tiles will add curb appeal to any home or business. If you'd like to install Ludowici Tile in Dallas, TX, our team has the expertise to ensure high-quality service every time. Learn more about these roofing tiles or set up a service appointment with us by calling 214-373-1500.
Benefits of Ludowici Tile
When it comes to reliable roofing materials, Ludowici stands out as an established leader. They've produced premium roofing products for more than 130 years. Such quality is why Eclat Roofing relies on their materials. Our goal is to provide our customers with the highest-quality roofing, and you'll get that with Ludowici tile installation in Dallas, TX. Here are just a few reasons to consider these tiles for your home or business:
Easily customizable: These tiles are designed to fit almost any type of roof structure and home style.
75-year warranty: These tiles are durable and come with a 75-year manufacturer's warranty.
Extensive product range: These finely crafted roof tiles are offered in more than 40 different styles.
Sustainability: These tiles are environmentally friendly. They are locally sourced from all-natural materials and are 100% recyclable.
Energy efficient: These tiles are highly energy efficient with energy savings of up to 20%.
When you have our team install your Ludowici tile roof, you'll benefit further from Ludowici-certified roofers. This means our roofers are specially trained to install these types of roofs. With us, you can always count on high-quality service. Our crews are highly-trained and we always use premium materials from leading manufacturers.
Give Us a Call Today
Want premium roofing? For expert Ludowici tile installation in Dallas, TX, you can always count on the trusted professionals at Eclat Roofing. We offer a full range of premium roofing solutions for homes and businesses. Give our team a call today at 214-373-1500 to learn more about all the services we can offer.