Roof Repair Experts
Roofs are always vulnerable to inclement weather. When severe storms strike, they can leave behind trails of serious property damage, especially to roofs. Damage can range from a few missing or torn shingles to punctures by hail and debris. Anytime your roof gets damaged in a storm in Lake Charles, LA, you want trusted, experienced professionals to make repairs. You'll find those professionals at Eclat Roofing. Roof storm damage repair is our specialty, but for more than 20 years we've provided Louisiana, as well as Texas and Oklahoma, with a full range of roofing solutions including roof replacement for thousands of residential and commercial clients. We are fully licensed, bonded, and insured, and are available 24/7 to help you with any emergency. Learn more about us or book us for a service appointment by calling 337-693-3727.
Storm Damage Roof Repair
Among our specialties is storm damage roof repair. No matter what kind of roof you have, we're available 24/7 to make any repairs you might need.
Insurance Claims Help
Making roof damage claims can prove tricky, especially when it comes to reporting storm damage. We can help you navigate roof insurance claims to ensure you fully benefit from the claim.
Roof Replacement
Whether your roof is severely damaged in a storm or has simply reached the extent of its lifespan, when you need expert roof replacement, you find it with us. We work with every type of roof from asphalt shingle to tile to metal.
Roof Repair
No matter what kind of repair you need, we are roof repair specialists. From broken shingles to leaks, you can rely on our experienced professionals for fast, effective repairs.
Experienced Roofing Professionals
24-Hour Care
Whenever storms push through Lake Charles, LA, people often need immediate help when it comes to repairing damaged roofs. For more than 20 years, Eclat Roofing has promptly responded to roofing emergencies following storms and other events. Our team is available 24/7 to make roofing repairs. We'll get out to you as soon as possible after you call, assess the situation, and take appropriate action. This could mean anything placing a tarp over damaged roofing until weather permits repairs to getting started immediately on repairs. If you need help fast, all you need to do is call 337-693-3727.
Hail-Resistant Roofing
Hurrican Damage Protection
When severe storms roll through Lake Charles, LA, and you want to make sure your roof is protected from hail, you might want to consider installing hail-resistant roofing. These shingles are specially designed to withstand the hardest impacts from hail and hold a Class 4 impact-resistance rating, the highest given to roofing shingles. Call us at 337-693-3727 if you want to install these types of shingles or need roof storm damage repair.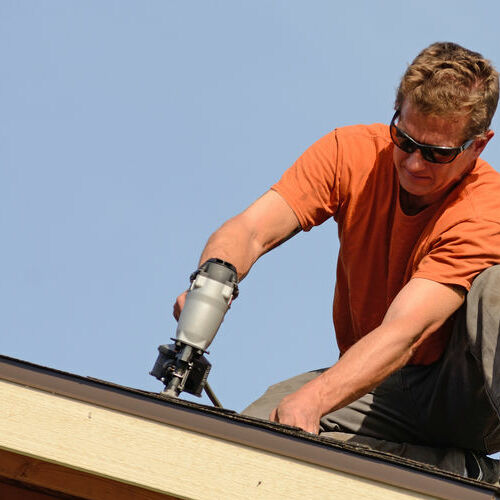 Reroofing
TPO Roofs, Replacement Alternative
When it comes time to replace your roof, a cost-effective alternative is reroofing. This means a new layer of shingles is installed over the current layer. No tear off is involved. If your city ordinances permit this type of roofing, you'll want experts like those at Eclat Roofing to do the job to ensure installation is done properly so you won't have issues with ventilation or moisture. Find out more about our reroofing services by calling 337-693-3727.