Learn More About Composite Shingles
The roofing market has been adding many unique and innovative types of roofing materials for the average consumer to buy. Yet what remains to be the best chosen are composition shingles also known as the asphalt shingle variety. Essentially composition shingles will provide your property with the protection that it requires on the basic level and for those in steady climates, that's all you'll need. It's important to consider that with composition shingles you'll have an easier way to replace shingles with its accessible availability and cheaper price. Like with any type of roofing material it's important to weigh the benefits before committing. Ultimately, it's important to touch base with a professional roofing company regarding your roof for optimal end results. Before you get started, here is some basic information regarding composition shingles that may prove of use to you.

What type of roof is composition?
Composition shingles are a type of asphalt shingle that can either be made of organic materials or fiberglass. There are three subtypes of composition shingles such as 3-tab, laminate/dimensional, and architectural/premium. Each separate category will have additional protection and variances in style, color, and shape.

What are normal shingles made of?
Shingles are normally made of various materials from slate, wood, metal, plastic, flagstone and composite materials such as fiber cement and asphalt.

What is the difference between asphalt shingles and fiberglass shingles?
Both fiberglass and asphalt have an asphalt exterior yet the base of the shingles differ. Fiberglass shingles have a fiberglass mat and organic shingles have a mat made from a wood product like paper.

How long do composition shingles last?
Composition shingles last a different amount of time depending on the type of composition shingles chosen. Regular composition shingles will last 20 years, fiber cement 25 years, and architectural 30 years. Premium brands can even last up to 50 years with proper care.

How much do composite shingles cost?
The cost of composition shingles ranges from $7.75-$14.50 per square foot. The average cost for most homes will run $8.85-$12.50 per square foot installed.

Are architectural shingles better than 3 tab?
Architectural shingles are more of an upgrade to 3-tab standard shingles due to their higher quality, better look and strength. Since they have more thickness in their materials they will cost around 25% more than 3-tab varieties yet these are the more attractive option for higher standard homes.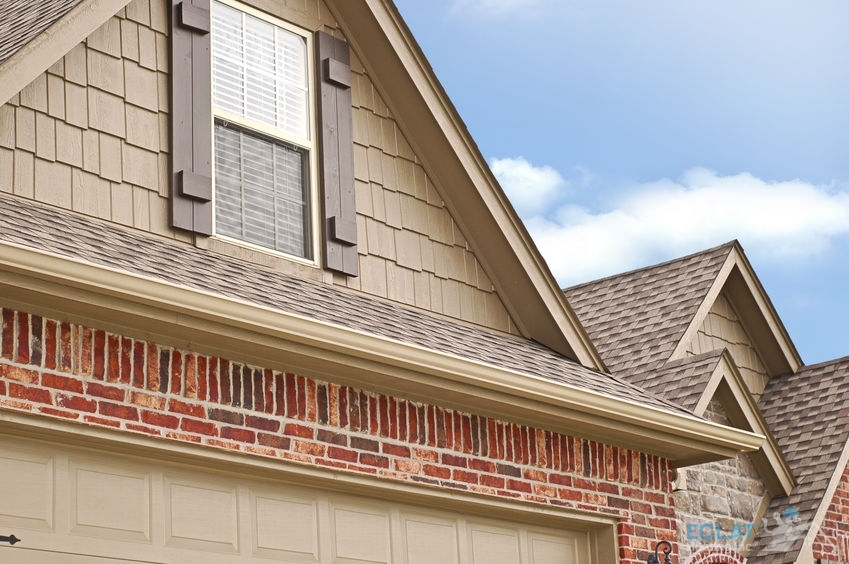 Which shingle brand is best?
GAF Marquis WeatherMax®
CertainTeed XT™ 25
Owens Corning Supreme® AR
Tamko Heritage® Vintage
What are the longest lasting roof shingles?
The longest-lasting roofing shingles on the market are considered to be laminated shingles as they have a lifetime warranty with dimensional and luxury shingle varieties. Dimensional shingles have a standard architectural pattern while luxury shingles can imitate the appearance of slate and wood shakes. Ultimately the longest lasting roofing materials are considered to be slate and metal materials. Slate roofs last around 125-175 years while metal roofs last 50 plus years with some options lasting as long as 100 years. Metal roofing can come in varying materials and compositions which will have different protective abilities and therefore a range in roof life.

What type of shingles are the best?
Although asphalt or composition shingles are the most popular choice since they are inexpensive and easy to install the best roofing shingles would go to premium roofing products like slate, tile, and metal. These options will not only last for decades, but they'll also have more enhanced protective benefits as well such as UV rays reflective abilities and protection from severe inclement weather.

How do I choose roof shingles?
Essentially it'll be best to consider the protective benefits you'd like on your roof as well as the climate of where your property is located in case of inclement weather and daily wear. With style select a color and profile that will enhance the architecture and draw the eye to special details. When in doubt, a professional roofer can guide you through your options.
Contact A Professional Roofing Company For More Information
When you're considering roofing materials such as composition shingles, get in touch with your local roofing company for guidance. Only they will be able to go over your roof's specifications in detail so you may know what will work best for your roof's longevity. Enhance the exterior with attractive roofing materials that will not only increase the value of your roof but protect it for years to come. Composition shingles will be a great way to provide the classic look to your roof that you'll enjoy. Make sure to confer with your local roofer to see what options are available to you and find out what improvements can be made for the better of your roof. Contact your local roofers today to learn more.

If you're interested in composition shingles in Dallas, TX call (214) 373-1500 with Eclat Roofing!