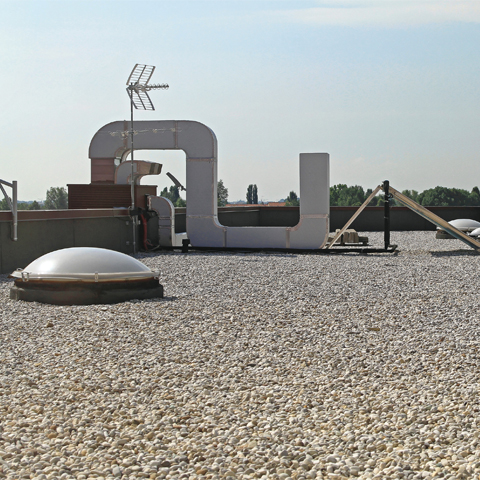 Keeping your commercial property protected
A commercial building is expensive to build, as one might imagine, with a commercial building roof being one of the costliest parts of the building. The overall structure is important, but commercial roofing keeps the equipment, inventory, and occupants protected inside the building. 
Once the building is occupied, it is important for the manager and/or the owner to follow through with regular commercial roof cleaning and commercial roof inspection. This is the best way to assure that any potential problems are caught and remedied before becoming a bigger, costlier expense. During the inspection, if the commercial roofing contractor finds any issues, they will provide the building manager and/or owner a commercial roof estimating the cost to repair or replace it as needed.
What are the different types of commercial roofs? 
Commercial roofing is built to meet the needs and specifications of the building. What type of commercial roofing material is used, and because the roof has an integral role in the structure's overall health and stability, there are several factors to be considered.
Those factors that are taken into consideration include the owner's budget, but the climate, environment, weather and minor variables like animals and their habitation, foliage, etc. There are six types of commercial roofing to choose from with those factors considered:
Built-Up Roofing Membrane
Also known as "BUR" is essentially a tar-and-gravel roof that comprises multiple layers. Because the number of layers can vary, they consider this a flexible type of commercial roofing. The layers can be applied to control the expense of installation or to meet the durability requirements needed by the roof. you may need to address. This is one of the oldest commercial roofing systems for a low slope roof but is cost-effective and durable.
Metal Roofing
Metal roofing is a popular commercial roofing type because of the many types of metal materials. The different types include:
Aluminum and silicon-coated steel
Copper
Corrugated galvanized steel
Lead
Metal tile sheets
Stainless steel
Stone-coated steel
Tin
Because metal is predisposed to rust, adding protective surface layers will manage any damage from continued exposure to the environment and UV rays. Metal roofing has an attractive, finished look, and it is fire-resistant. However, if budget-friendly and durability are the biggest concern, this is not the right commercial roofing material.
Modified Bitumen Roofing
Installed in layers as the bitumen commercial roofing described earlier but has a reinforcement of roof fabrics applied that are "carriers" for this roofing material. This type of commercial roofing system is usually affixed to commercial rooftops in a 2-ply system that is held to the roofing deck, giving it maximum protection and maximum stability.
This type of commercial roofing is simple to maintain, needing only annual cleaning and inspection. They offer enhanced flexible strength in contrast to other flat roof types where regular foot traffic may be experienced. If your commercial building has a commercial roof hatch with a ladder, and there is frequent activity on the roof, such as the HVAC technician or a plumber, this is an excellent choice of commercial roofing material. 
Thermoset Roof Membrane
Commonly referred to as EPDM roofing, this type of commercial roofing system is durable, long-lasting, and versatile. With simple installation and easy maintenance or repair, it is often the preferred choice. EPDM has a strong resistance to the ozone and UV rays, even in cold weather, it remains flexible, and it is resistant to acids, alcohol, and solvents. The reflective property that resists UV rays helps with energy expenses.
Thermoplastic Roof Membrane
Thermoplastic Polyolefin (TPO) is lightweight and highly reflective, making this an excellent commercial roofing material that weathers well and is UV ray resistant. It is resistant to punctures and tears, most chemicals such as animal fats, bacterial grown, and oils, even those that fall on it from other units. The seam strength makes it the perfect material for second-generation applications and has a high-temperature tolerance, fire-resistant, and high wind resistant.
Green Roofing
This commercial roofing style is versatile and has grown in popularity recently because of its sustainability. The main advantage of green commercial roofing is the level of protection it offers while managing drainage and water pooling/puddling and improving the building's energy efficiency.
What is the best type of roof for a flat roof?
The latest technology for commercial roofing is a membrane roof, and when you tell your roofing contractor, you want an EPDM rubber roof, they will know exactly what you are talking about. Technically, it is known as an elastomeric roof membrane, which has different varieties that are included:
Chlorinated polyethylene/chlorosulfonated polyethylene
EPDM
Neoprene
Polymer-modified bitumens
PVC
EPDM is the most common single-ply membrane commercial roofing material for commercial and residential use.
Do flat roofs always leak?
Even the flattest looking commercial roofing has some slope to it for shedding water. However, because they are "flat" they can't shed water like a sloped roof. The main reason a flat roof is found to have any leaks is frequently found to be because of poor construction, other words, it is usually human error.
Can I change a flat roof to a pitched roof?
Yes, but it will be expensive! There isn't any set price across the board, but commercial roofing experts estimate starting cost $30,000. The original flat roof will have to be removed in most cases. You will also need to make sure it is within building codes and regulations to have a pitched roof.
Looking for commercial roofing in Dallas, TX? Call Eclat Roofing today at (214) 373-1500 for quality roofing from our experts!