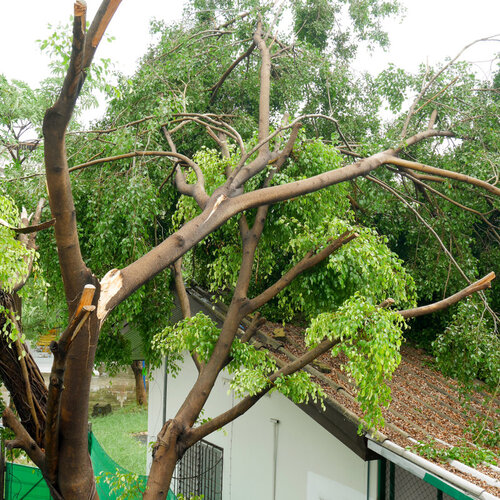 Keeping Your Home Safe
North Texas isn't a stranger to storms, Dallas has had some of the biggest tornadoes on record. And with that record-setting comes a lot of storm damage roof repair needs – something we may also hold some records for. While the storms may come with hailstones and high winds, this area also has ice and snowstorms too that require storm damage roof repair. 
For a homeowner in this area, it is important to know how to tell if your roof has storm damage, which lends itself to knowing how to inspect a roof for storm damage. So, what are the signs of storm damage to a roof? Here, we have provided a checklist for you to see if your home needs any storm damage roof repairs. However, you should know that most roofing contractors offer free inspections.
Before you risk climbing up on the roof, you may want to call a few to get that free inspection. They will provide you with a written estimate for any storm damage roof repairs needed, or will let you know if a replacement roof is needed. If you're going to do your own, the checklist we recommend as follows:
Roof: Walk around your home and get a visual assessment of the roof. Make notes of what you can see from the ground, taking pictures or videos if possible. Signs you're looking for that indicate possible roof wind damage are broken, cracked, curled, dented, missing, loose, or torn shingles.
Gutters, Vents, and Windows: Check the gutters, downspouts, vents, and windows for any dents, broken areas, or missing pieces. This includes checking the roofing accessories like gable vents and the overhangs. Check for broken or cracked windows, torn screens, and any loose or missing weather-stripping around the doors and windows. These all indicate storm damage, roof repairs are needed, these need repair or replacement too.
The Exterior: Walking around the exterior of your home, make notes of any broken or fallen tree limbs, damaged lawn decoration or furniture, and damaged or missing fence posts. Examine all the flat surfaces around your home like decks and patios for possible hail damage. If you have storm damage roof repairs needed, you can be certain other areas are damaged too.
Attic and Ceilings: Check in your attic for any moisture, leaks, or water spots and stains. The exterior part of your roof may not show roof damage from a hailstorm, but the attic will often tell a different story. Check the ceiling all through your home for water stains, moisture around or in the light fixtures.
For a metal roof, storm damage is rare and is more likely to be rain leaking from where the screws or clips are installed. If a metal roof isn't installed correctly, as the temperature fluctuates, it will cause the metal panels to shift, loosening the clips or screws. This makes the holes larger and then rain or melting ice and snow leak under the panels and into your house. Once the clips or screws have loosened, it will leave the metal panels vulnerable to high winds, causing a need for storm roof damage repairs or replacement.
Can heavy rain cause roof damage?
Yes, if you live in an area where storms are common, heavy rain can wear down asphalt shingles. This will leave you with storm roof damage repair needs sooner rather than later if you want to keep any further damage happening.
Once this damage has happened, if any shingles were washed or blown off, there is the chance of moisture penetrating the underlayment and decking. From there, it seeps into the attic. Left unaddressed, the integrity of your home's structure is compromised, and this could lead to foundation issues.
Rain can also lead to storm roof damage repair needs when the gutter system or downspouts are clogged. The rain has nowhere to go except up under the shingles or spill over to the ground and saturate around the foundation, causing more problems.
What damage can ice storms cause?
In addition to ice dams building up along the roof edge, ice storms can bring down tree limbs and powerlines, or even communication towers, disrupting communications for an area. The downed power lines can cut off power to homes and businesses for days, or even weeks as utility companies make repairs. All of this can lead to a range of problems for a home's roof, including an inability to get some of the storm damage roof repairs you may need.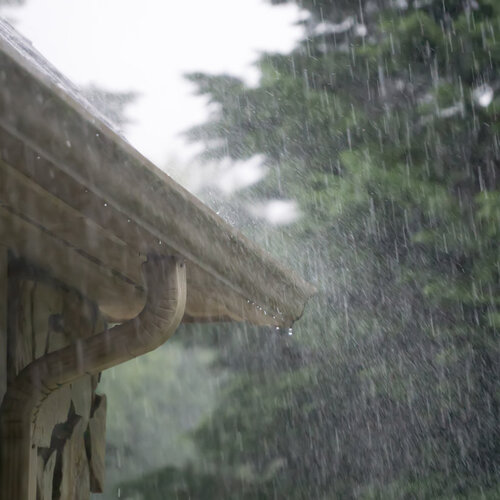 A Final Few Words
As a homeowner, it is important to understand what your homeowner's insurance policy covers, what your out-of-pocket costs will be, and how to claim storm damage to a roof. Your own documentation, pictures, and videos are always recommended. Keep copies of any storm damage roof repairs or replacements you get from contractors.
Once you have filed your storm damage roof repair claim, the insurance company's adjuster will come to inspect the roof and identify other damages. If possible, have your roofing contractor there at the same time so they can review the damage together. Once they have completed their inspection, they will advise you what they will pay to have it repaired or replaced.