Many people think of a barn or warehouse when metal roofing is mentioned. However, metal roofs are gaining popularity among homeowners, both rural and suburban. Here are a few reasons to consider residential metal roofing.
Long Lasting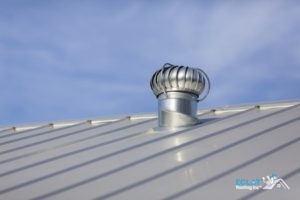 Unlike asphalt shingles, metal roofs do not wear down because of sunlight, rain, or other elements. A solid metal roof can withstand hail, high winds, fire, earthquakes, and more! Most metal roofs will last 50+ years if properly maintained. And the even better news is that maintenance is extremely minimal! Though more expensive up front, a metal roof will pay for itself over the decades.
Stylish
Did you know that metal roofing is available in more colors and styles than the standard silver standing seam? Do you want a red roof? Of how about metal shingles? No problem! With the increasing popularity among suburban homeowners, metal roofing is available is a wide variety of colors and styles. Go bold or keep it simple with something resembling a traditional shingle roof. There's an option for any homeowner.
Eco-Friendly
If you want to make less of an impact on the environment, a metal roof is a great way to go green. Metal is recyclable, and most metal roofing is made up almost entirely of recycled materials. And if something happens and you need to get a new roof, your old metal roof won't have to end up in a landfill. Another major benefit is the roof's reflectivity. Because sunlight bounces off the roof rather than getting absorbed, your roof will help keep your home cooler in the sweltering summers, saving you money on electric bills.
Want to learn more about residential metal roofing in Dallas, TX? Call Eclat Roofing at (214) 373-1500 for metal roof installation today!