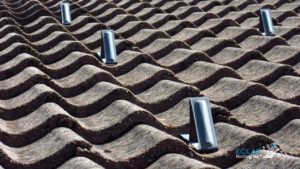 Concrete tile is a fantastic roofing material for homes here in Dallas, TX. Much like all roofing, it can have a fantastically long life for your home if taken care of correctly. Proper maintenance is key. It is a small task to take care of your roof if you know exactly what you need to do. Eclat Roofing has composed a short tip list for you and your concrete roof.
Concrete Tile Roof Maintenance Tips
Inspect or Have Your Roof Inspected – Cracks, chips, and wear should always be checked for. Take a moment to look at your roof. If you notice any wear or damage, your tiles will need replacing.
Buff Your Tiles – Your tiles can have build up occur over time. This build up comes from the concrete itself. Take a clean damp rag and buff off this build up. Whatever you do, do not use the pressure washer to remove the build up. The intense pressure can break your tiles.
Walk Carefully – Sometimes when inspecting your roof, you may climb up and begin walking the surface looking for breaks and cracks.Distribute your weight evenly when you walk along your roof. During inspection, if you do not keep you weight even you may cause more damage than you find.
Replace Any Damaged or Missing Tiles Quickly – If you notice any damaged or missing tiles, have your local roofer install replacements quickly. These can become weak points for your roof that may be damaged worse during the next patch of bad weather.
Call Eclat Roofing today at (214) 373-1500 for all of your concrete tile needs in Dallas, TX!