There is a wide variety of roof material options available on today's market; it's important to know which one is right for you. Sometimes gathering all the pertinent information can be tough. It helps when it's all laid out together for you. Here's a basic overview of the benefits of residential metal roofs: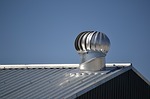 Choice Variety:
Metal roofs come in many different types: copper, zinc, steel, aluminum, titanium, etc. Steel and aluminum are the most common choices for home roofs. They all have minor differences that your roofer can go over with you before installation.
Long life span/hardy:
Metal roofs will generally last 40-70 years if kept up properly. This is a big advantage over asphalt shingles, which generally only last 15-25 years. Metal roofs can withstand high winds, heavy storms, hurricanes, and won't ignite when struck by lightning. They're resistant to insects, mildew, and rot. Metal roofs receive a Class A fire rating, the highest given.
Energy efficient:
Metal roofs reflect solar heat; this can cut house-hold energy costs dramatically. An extra layer of space can be added under the metal roof for better insulation.
These are the basic benefits associated with residential metal roofs. Here at ECLAT Roofing Inc, we offer residential metal roof installation alongside a host of other roofing services. For more information, please give us a call at (214) 373-1500 or (817) 800-1881.