Technology has made some pretty amazing advances as time has passed. Now is a good time to take advantage of them. Cleaning gutters is usually a tedious chore for people. Did you know that gutter robots are now available to do the work for you? Here's how they work: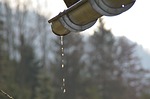 The most common gutter robot that you'll run into is the LOOJ; they're easy to operate. At about 2 inches tall and 3 inches wide, they fit snugly inside your gutter. They have long treads that allow them to move up and down. Attached to the front of the robot is an auger that spins rapidly in different directions to fling debris out into the open. There is even an attachment to hook the robot to your body so as not to decrease your mobility.
To start, you attach the LOOJ to your person to easily climb up a ladder to your gutter. Then, you put the robot in the gutter, taking off the handle/remote. When you get back to the ground, you can use the remote to send the robot up and down the gutters, clearing out debris. It will feel like a video game. Afterwards, you retrieve the gutter robot, wash it down, and you're done. It's as simple as that.
Clearing out your gutters is an important aspect of maintaining your roofs health. If you don't, pooling water on the roof can cause damage. Here at Eclat Roofing INC, we offer a host of roofing services. For more information, give us a call at (214) 373-1500 or (817) 800-1881.