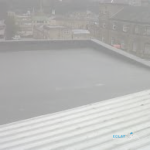 Do you own a business? Does it need a new roof? You might benefit from hearing about EPDM roofing materials, a mixture of ethylene, propylene, and diene monomer. To make such a huge decision, you must make sure you know what you'll get from each option. Here, we'll go over the benefits of EPDM roofing to make that easier.
Why you may want to invest in an EPDM roof:
White option offers high UV light reflectivity; you can save a lot on your energy bills if you live in a hot climate.
It won't deteriorate from UV damage. Also, it provides resistance to hail and other inclement weather damage.
It has flexible properties, but retains it's shape. It can set with your building.
Provides one of the more economical options for its roof type.
If these sound appealing, contact one of our professional roofers at ECLAT roofing to learn more. We'll happily discuss any of our services in detail. You can reach us at (214) 373-1500 or (817) 800-1881.