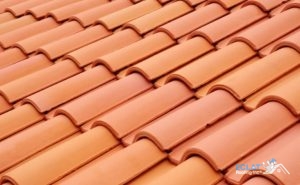 Tile roofing is a popular option for homeowners wanting their home to stand out with a unique roof. Clay tiles are extremely durable, elegant, but can be very pricey. Those wanting to get the look of Spanish or Mediterranean tiles can have imitation tiles installed at a great price! They even come in a variety of colors so you'll be able to find the right style to match your home.
One of the hang-ups with tile roofing is the weight of the tiles. This is why imitation tile is a great alternative. The materials are lightweight so there's no need to add extra support to your roofing structure prior to installing them. This will reduce the labor costs as well.
Imitation, or faux tiles are made from sturdy materials so you'll not only get the look of real tiles but excellent durability as well. They are built to withstand extreme temperatures changes, hail, and debris brought on by harsh winds. The materials that make up imitation tiles are extremely color fast as well so you don't have to worry about replacing faded tiles anytime soon.
If you are looking to install imitation tile in Dallas, TX, then contact Eclat Roofing today at (214) 373-1500. We can help you create the style you want for your home. Whether you want imitation tile that looks like Spanish tiles, slate, etc. our roofing professionals will build a reliable roof to protect your home.