Wondering if you have a roof leak? Whether you're nervous because a neighbor's roof is getting worked on or you're just conducting regular maintenance, here are a few signs that you may have a roof leak.
Water Stains and Damage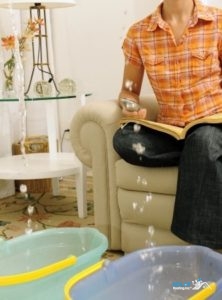 The most common early indicator of a roof leak is the classic water stain. If you have white walls or ceilings, it may appear brownish, while paint and wallpaper may warp, tear, or bleed. Check your attic for signs of a leak, but keep in mind that the leak may not be in the same location as the stain. Water can drip down the angles of your roof, making leak detection difficult.
Dripping Water
Have you ever occasionally noticed water dripping from the walls, ceiling, or fixtures? Don't ignore it! Conduct a thorough inspection or call a roofer to find out if you do, in fact, have a leak. Sometimes people only notice such problems when there is ice and snow, or heavy rainstorms. Keep an eye out and try to dry up any water quickly to prevent damage and mildew.
Exterior Damage
If the outside of your roof is damaged, the inside is likely sustaining damage as well. Do you have missing or warped shingles? Is there debris in your gutters preventing the flow of water? Is the underside of your roof line rotten, damaged, or growing mold? These signs could indicate roof damage and should be inspected by a professional before the next storm hits!
Wet Insulation
Another great way to check for a leak is to take a look inside your attic. When water drips from your roof, it may fall on wood, your air conditioning unit, insulation, and anything else in your attic. If you see wet or moldy insulation, you could have a leak. Your attic may also be poorly ventilated, which can cause additional problems.
If you notice any of these signs that you may have a roof leak, call Eclat Roofing at (214) 373-1500. We're happy to provide roof inspections and repair in Dallas and Fort Worth, TX!