What is the difference between TPO and EPDM roofing?
Expansive, large buildings, like your local grocery story or big box stores, typically have what appears to be a flat roof. What you wouldn't know by looking at it from street, these roofs aren't 100% flat. They have some slope for drainage purpose, and they are all covered with a material that can flex with these buildings and withstand the weather and UV rays, like TPO roofing.
TPO is short for Thermoplastic Polyolefin, a single-ply roofing membrane that is used on those large commercial roofing systems. TPO roofing is one of several other types of flat roof systems and is made from a single layer of synthetic that is reinforced with scrim. Other types of flat roofing materials are: 
BUR (Built-Up Roof)
EPDM Rubber
Modified Bitumen
PVC Single-Ply
Spray Polyurethane Foam
The biggest difference between EPDM and TPO roofing is the surface. EPM roofing has a dark surface that absorbs heat. TPO roofing has a light color that reflets the sun's UV rays. With TPO roofing, cooling systems work less, putting less strain on the HVAC system and keeping the interior cooler in the summer.
While that may not seem like a big factor to building owners in the far Northeast corner of the country, here in Texas and all through the south, it is a major concern. For those Northern locate structure, the darker color of EPDM roofing is preferred since most of their weather is cold.
However, EPDM roofing is more flexible, and important feature in areas where hailstorms are common. Hailstones bounce off the synthetic rubber surface with little damage, if any, whereas with a TPO roofing can easily be punctured, leaving concentric circles that compromise the membrane's integrity.
Is TPO roofing fire resistant?
Not straight off the manufacturing line, no, TPO roofing is not fire resistant. If the manufacturer adds fire retardant chemicals during the process of manufacturing TPO roofing membranes, it becomes fire resistant and passes for UL (Underwriters Laboratories) Class A fire resistance listing.
Is TPO waterproof?
When it comes to flat roofing materials, none of them are 100%, with each having advantages and disadvantages. You want to discuss these you're your roofing contractor and get quotes for the one that will get you the most for your resources. This includes knowing what the downsides to any of the roofing materials may be, including TPO roofing, which includes possible leaks.
While TPO roofing is durable, energy efficient, and flexible, if it isn't installed correctly and maintained as it should be, then it can possibly develop leaks. Like any roofing, the installation workmanship and the maintenance and upkeep are essential in it providing the coverage and protection you need.
Can you walk on a TPO roof?
TPO roofing is durable enough for foot traffic, making it one of the recommended flat roofing material for rooftops that have a deck and seating area. However, when it is icy, snow-covered, or wet, it is just as slippery as roofing material.
What colors does TPO roofing come in?
The basic colors of TPO roofing are black, grey, and white. TPO roofing manufacturers can produce the roofing material is other colors upon request. This can take longer to fulfill an order, which your roofing contractor should be able to relay that timeframe to you.
Can you paint a TPO roof?
There are various methods where Thermoplastic olefins, aka, TPO roofing can be painted. This will require the surface be thoroughly cleaned and any repairs completed if needed, then a primer be applied before the paint.
How long does TPO roof last?
As we stated earlier, durability, leak-proof, and longevity of TPO roofing is dependent on installation workmanship and owner's maintenance and upkeep. A TPO roofing that is correctly installed, that has proper maintenance and upkeep will last up to 30 years.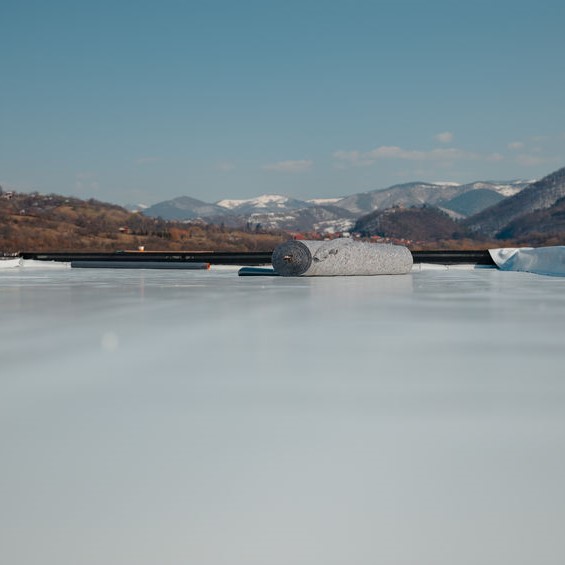 Can TPO roofing be repaired?
If your TPO roofing has no more than 25% saturation discovered during an infrared survey, a silicon restoration to the membrane is possible. The steps that will be taken for this are:
Saturated areas removed and replaced with like material.
The entire roof will be thoroughly cleaned, and power washed.
The TPO Roofing seams are reinforced and strengthened.
A silicone coating is applied to the complete TPO roofing surface.
A new warranty is issued between 10 to 20 years.
To answer the first question typical for anyone shopping for flat roofing material, "Is TPO roofing good?", we offer the following benefits to help you decide:
TPO roofing is resistant to ozone and ultraviolet rays.
TPO roofing is resistant to some chemicals.
TPO roofing is fire resistant and naturally flexible.
TPO roofing is an eco-friendly material that is easily recycled.
TPO roofing is less expensive than PVC roofing.
TPO roofing is an Energy Star compliant material that provides energy savings.
TPO roofing is resistant to dirt accumulation, mold growth, punctures, and tears.
TPO roofing is better at reflecting solar heat than EPDM.
Want to get started on your TPO roofing in Dallas, TX? Eclat Roofing is always available to assist you. Call us today at 214-373-1500 for your next roofing project.