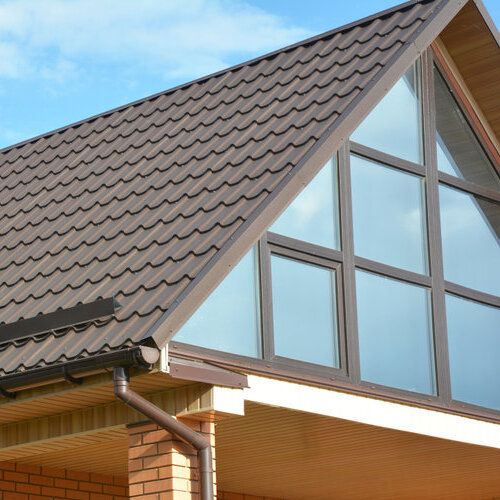 Metal Roofing for Homes
A metal roof on a home in a big city, like Dallas, Texas? Yes, metal roofing has gone from old barns out on country roads to industrial buildings and residential properties. Metal roofs for homes are quickly becoming a trend and for several good reasons.
Why Metal Roofing is Popular on Residential Properties
It is surprising to many how residential metal roofing has become one of the quickest growing innovations not only for remodeling and updating current homes, but with new builds too. More than 700,000 homes had metal roofing installed in 2015 and that number has only increased in the last six years, well into the double-digits.
Three reasons why metal roofing has caught the attention of homeowners are:
Durability
Exceptional protection
Longevity
A metal roof isn't just plain old metal anymore! It comes in a wide assortment of colors, finishes, and shapes. A metal roof on a home will add to the attractiveness of the architecture, and the best thing for a homeowner, with a life expectancy of a metal roof being 50 years or longer, you'll probably never need a new roof again.
Which metal roofing is best for residential use?
There are several different types of metal roofing materials to choose from with different factors to be considered in which is the best for your home. Among the choices in types of metal roofing materials are:
Aluminum
Copper
Galvalume
Stainless Steel
Zinc
With each home having some common aspects, each home has a unique appeal too, and it with that in mind you want to choose the metal roofing best for your home. The factors you should consider include:
Your budget vs the cost
Material strength in regard to the climate, rainfall, snow, UV exposure, etc.
The strength of the structure
Energy Efficiency
Recyclable and Sustainability
Maintenance and Upkeep
Where the water will run off and come in contact with what materials
Material Availability
What different types of metal roofing systems are available for residential properties?
If a metal roof is something that you're interested in for your home, you may be overwhelmed at first with the different types of metal roofing materials available. A professional roofing contractor will be able to walk you through these different types and help you choose the best one for your home. So, what are the different metal roofing materials?
Aluminum – This lightweight metal roof material is excellent for the coast because it doesn't corrode.
Copper – This metal roofing material is a very long-lasting metal that adds to a home's character as the protective layer changes color to a beautiful patina. It is also the most expensive of all metal roofing materials.
Tin – Today, when a roofing contractor says "tin roof" they are typically referring to a steel roof. Actual tin is no longer used for metal roofs.
Zinc – An expensive but very long-lasting metal roofing material, and like copper metal roofing, it will patina and change in color too.
Metal or Steel– This most common metal roofing type with different finishes.
What are some of the metal roof panel styles available?
Here is a breakdown of the different metal roof panels styles of metal roofing to choose from:
Exposed Fastener Panels: A budget conscious metal roof panel type with exposed fasteners. Typically this type of metal roofing is installed over solid decking, meaning existing roofing will need to be torn off. It then attached with fasteners penetrating the metal panels and into the roofing structure.
There are fewer metal roof panels with this type because of the panel widths of 36" wide. A cost-effective metal roof product with reliable performance and long life expectancy.
Standing Seam System: The purest form of metal roofing, standing seam is a panel system consisting of female and male seams that are engaged together and installed with clips connecting them to the roofing substructure. There are options of clipless panels as well today that your roofing contractor can discuss with you.
Specialty Roofing Panel Style: Specialty metal roofing panel system will give any home all of the benefits you'd expect from a metal roof without the traditional appearance of a metal roof in an exposed fastener seam style or the standing seam style. This metal roofing type mimics the more traditional roofing materials such as asphalt shingles, ceramic tile, shakes, or slate while maintaining the advantages of metal roofing.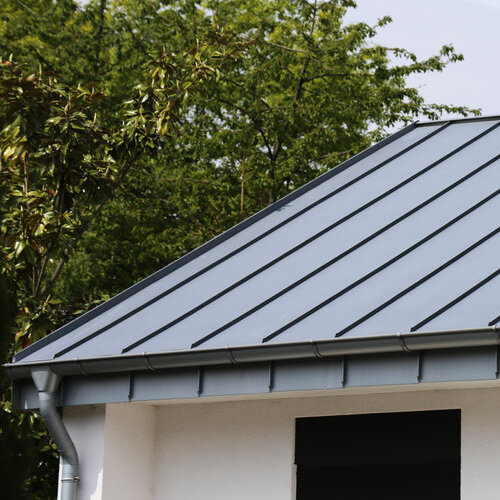 A Last and Popular Question – Can metal roofing go over shingles?
If the circumstances are right and certain factors are in place, then yes, roofing over an existing asphalt roof is possible. These certain factors include that the current asphalt roof must be at the end of life and it is lying flat. Any blistered, bumpy, cracked, or lifted shingles will need to be removed so that the metal roofing will lay flat. In most cases, roofing contractors have found that most existing roofs are not good candidates for this because of the wear and tear they show. No matter your needs, if you're interested in metal roofing in Dallas, TX, the team at Eclat Roofing can be there to help when you call 214-373-1500.