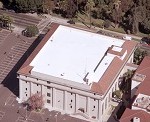 A new commercial roof is a big investment and an important step in protecting your property. Working with a trained commercial roofer who is able to guide you in choosing the best roof for your property will pay off immensely down the road. For fast installation that is also cost friendly, TPO is a practical choice and one of the most popular options for commercial buildings.
Thermoplastic polyolefin (or TPO) is a combination of polypropylene and ethylene propylene that is reinforced with polyester. No plasticizers or chlorine are added during the manufacturing process, making it safer to produce and discard after use. The material seals together with adhesive that allows it a virtually seamless quality. Some advantages include:
TPO is hard to tear or puncture.
Even in low temperatures and strong winds, it retains its flexibility.
It is environmentally friendly.
It reflects sunlight to lower your building's cooling utility costs.
TPO is resistant to many different chemicals and weathering over time.
The team at Eclat Roofing is highly experienced in many commercial roofing applications. We offer TPO installation along with a host of other materials. To learn more about installing, repairing, and maintaining a commercial roof, call us today at 214-373-1500!