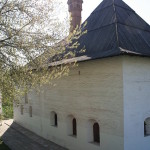 Steep roofs, in all their beauty, require professional maintenance and attention. Their dramatic slopes and angles create stunning visual features to your home or building, along with ample interior space and heightened ceilings. While captivating, their steep slopes should only be attended to by trained professionals, as there can be a serious danger of falling. Professional repair and upkeep of steep roofs will ensure longevity of your roof for years to come.
Steep roofs proudly and boldly display your choice of roofing, so caring for your roofing system is all the more important. Fortunately, steep roofs offer excellent water drainage and are less susceptible to UV damage, so roofing systems typically last long-term. All roofs ultimately require maintenance, and utilizing trained, experienced roofers to care for your roof is critical.
Our Expert Roof Service
The team of professionals at Eclat Roofing is trained in industry leading techniques to keep your roof performing its best. Storm damage repair, full roof replacement, and insurance claims are all in our realm of expertise of steep roofing maintenance. Our expert roofers are here to protect your roof, no matter how slippery the slope. For quality steep roofing service in Dallas, call our team today at (214) 373-1500 or (817) 800-1881.