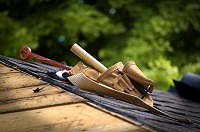 Texas has some of the most relaxed regulations in the country when it comes to roofing contractors. Unfortunately, this can make homeowners in need of quick repairs easy targets for roofing scams. Learn more here about how to choose a trustworthy roofer and avoid a roofing scam.
Knowing How to Hire a Roofer
One of the surest ways to avoid being scammed is to research any roofer you are considering to hire for repairs. First, conduct an internet search or scan local directories to be sure the company truly exists. If they claim to be a contractor from a certain company, call the company to verify their statement.
A vital part of researching a roofer is to ask for references or referrals from customers they have serviced in the last 12 to 24 months. This will help paint a picture of the quality of their work and how it has held up since the work was completed.
You should generally avoid hiring a contractor who conducts door-to-door solicitations. Many of these contractors are simply following the wake of storms to capitalize on homeowners who need immediate roof repairs while established local companies are swamped with work. While most door-to-door contractors are not out to scam homeowners, the vast majority of roofing scams come from door-to-door solicitations.
Trust your instincts. If an estimate on your roof repairs seems too good to be true, it probably is. For trusted, verified, professional roof repair, call Decor Roofing at 817-800-1881 to protect your home for years to come!